A operação desta mostra è sem precedentes: um percurso expositivo assim nunca foi realizado!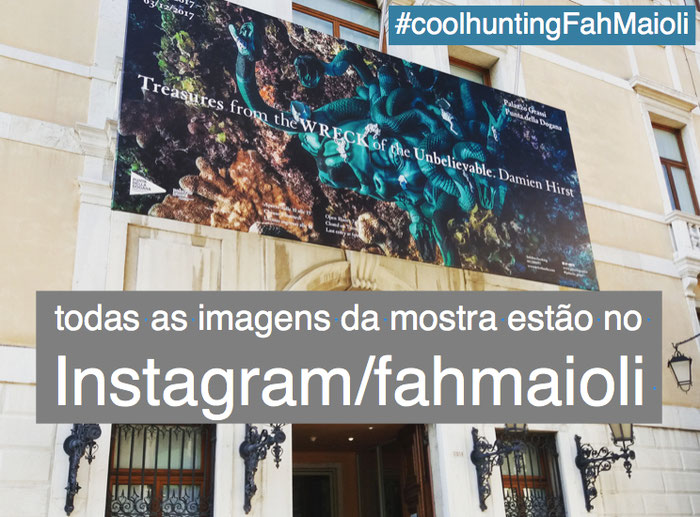 A' mais de 10 anos sem uma mostra relevante, fiquei curiosa e fui visitar em Venezia os 5mil m2 expositivos da nova experiência de Damien Hirst: Treasures from the Wreck of the Unbelievable, que atè 3 de Dezembro deste ano serà hospedada em Punta della Dogana e a Palazzo Grassi. Pela primeira vez estes espaços, pertencentes à François Pinault Foundation (leia-se grupo de luxo PPR) serão  dedicados contemporaneamente ao mesmo artista. Não è pouco, mas è que estamos falando de Damien Hirst (Bristol, 1965) que, como Maurizio Cattelan, è um dos artistas contemporâneos mais amados e odiados. Ele, enfant terrible, tem um talento natural: trazer à tona sempre um debate intenso em torno às suas obras e então, à sua vida. Esta mostra não faz exceção jà que os críticos de arte, imprensa e curadores pelo mundo jà deram seu veredicto, mesmo que as longas filas aumentem dia após dia.
Na maioria sào obras gigantescas com materiais preciosos e o set como museu arqueológico rendeu o percurso coerente e didático.
A MOSTRA
Vemos 189 objetos realizados por ele e seu grupo criativo, misturando materiais antigos e contemporâneos como o bronze, lápis lazuli, giada, prata, ouro, aço e LED, para criar bustos de divindades egípcias, gregas e hinduístas com estátua de Topolino, modelos dos Transformers, Mowgli que joga com Baloo e dois auto-retratos de Hirst que se passa por Cif Amotan, o proprietário do tesouro da barca afundada.

A mostra è baseada nesta ambivalência, numa espécie de "mentira verdadeira" de grande beleza plástica e parece realmente resultado de um colecionista que se divertia em colecionar expressões artísticas do mundo antigo. Ele conseguiu misturar todas as artes das épocas precedentes unindo obras pop e contemporâneas de grande sincretismo. Temperou com muita brincadeira e citações evidentes como a estátua egípcia com a cara de Kate Moss, uma outra com tattoos que lembra Rihanna, e por fim uma com piercing que muito provavelmente è Pharrell Williams.

A obra que oferece o momento UAU do dia è a gigantesca estátua de bronze, decapitada (jà falei sobre o que significa isso aqui …) no cortile interno do Palazzo Grassi que não sei o que pode ser ainda: se è uma antiga divindade da Babilônia Pazuzu, o rei demônio do vento ou ainda o próprio ego do artista. Aliás o excesso monumental desta estátua se reflete na opulência da mostra pela quantidade de objetos, pela repetição de um mesmo modelo, pela riqueza e variedade dos materiais.
Uma grande brincadeira, metáfora e crítica ao mundo da Arte alèm da criação de um grande mito: "tudo está naquilo que vocês querem acreditar".
Em resumo è uma belíssima viagem ao interno do Inacreditável e da Wunderkammer, povoado por personagens históricos e seres mitológicos que levam o expectador a entusiasmar-se e admirar a colossal mise-en-scène de um tesouro recuperado…Ela è impactante e sem dúvida vai entrar para a História da Arte Contemporânea. Pelo seu mood, que captou (como aliás todos o ser visionário que è um artista do calibre de Hirst pode ser capaz de ser) o zeitgeist atual. Vejamos:

MEMENTO MORI
O transcorrer do tempo, a memória da vida e a decomposição ou ainda o tentativo de combate ou eliminar estes elementos atravès da Arte são jà a marca registrada das obras de Hirst, que matou borboletas, conservou ovelhas e vitelos imersos em formaldeído (que segundo ele è sim perigoso mas que o associa sempre à memória) mas nesta ele foi além: afundou seu alter ego de 2000 anos atrás, os recuperou salvando da água e da sua corrosão e o portou à luz dos espaços expositivos para preserva-los e então, contar a sua história.

POST-VERITA
Em tempos de luta contìnua contra as fake news, nestes tempos onde a verdade è apenas uma variável independente, è interessante reconhecer seu pioneirismo: a história em torno da mostra è fascinante, e è seu ponto de força principal, mesmo que se dilua jà na primeira escultura localizado no átrio de Palazzo Grassi. Porém, com o mistério, as narrativas legendárias, o símbolo de um tesouro colecionado, perdido e depois encontrado junto da ligação com um escravo livre que se torna um rico colecionista, è super original e encontra em cada um de nós eco e acolhimento. Maravilhamento, para ser mais precisa.

UMA NOVA FORMA DE FAZER ARTE
A operação da mostra è sem precedentes, pois um percurso expositivo deste tamanho nunca foi realizado e talvez se aproxime à polêmica retrospectiva realizada no Qatar Museums Authority de Doha em 2013. Esta levou 10 anos para ser realizada, teve 4 meses de construção e custos de produção milionários (patrocinados por Pinault), de cunho realmente hollywoodiano.

STORYTELLING INOVATIVO
Ele fez mistério atè o último momento e este se propagou pois eram vistas somente imagens e vídeos com conteúdos que mostravam o fundo do mar ou ainda circundadas da água e o mundo ficou sabendo de parte de sua próxima mostra apenas atravès de Catherine Mayer em um artigo do Financial Times do mês de março (você pode ler aqui) onde ela contava de ter participado com um grupo de mergulho em uma operação de recuperação de alguns objetos naufragados junto de uma nave misteriosa, hà 2mil anos atrás na Costa da Africa Oriental.
Por fim, Treasures from the Wreck of the Unbelievable se conclui com as duas belíssimas mãos em malaquita, em um gesto de oração, que è, penso, um evidente chamado à idéia de que a arte pode ser uma religião ou parafraseando Hirst, qualquer coisa que funciona sò quando a gente acredita.

Imperdìvel. Por favor, quem programar sua viagem para a Europa não deixe de incluir um pulo à Venezia. E' uma mostra que fica impressa na sua retina e nos seus pensamentos por um bom tempo. Sem falar que dela irão nascer muitos modelitos para a Moda.Veremos logo mais!