A Science Fiction è uma narração E uma maneira de prever possibilidades futuras.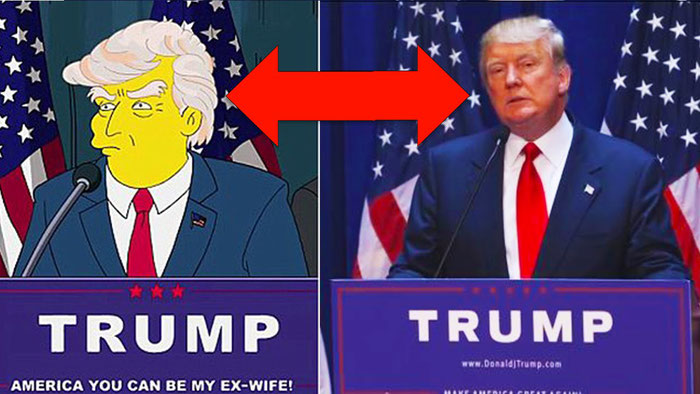 The Simpsons nào è SCIFI mas chegou bem perto!
Quer saber o que virà amanhà? Assista Humans, High Rise, Ex Machina, Her e Black Mirror ou leia os clássicos de Clarke e H. G. Wells! Quando no estudo da pesquisa e análise de trends nos aprofundamos em Forecast e Futurologia, notamos que várias predições notáveis foram feitas pela literatura SCI FI, disseminadas atravès de livros, filmes e seriados televisivos, junto daquelas de cientistas baseadas no método científico, de sociólogos e suas previsões de mudança social, de economistas e historiadores com suas previsões econômicas, e atè profecias religiosas.
---
Ninguém pode ver o futuro. O que eu tento fazer é esboçar possíveis "futuros" (Arthur C. Clarke)
---
A ficção científica ou sci fi é um gênero da ficção especulativa que lida com conceitos futuristas imaginativos, e trata de ciência e tecnologia, viagem espacial, viagem no tempo, universos paralelos e vida extraterrestre. Muitas vezes, ficção científica explora as potenciais consequências de inovações científicas e outras, e tem sido chamado de uma "literatura de ideias." No final do post, por exemplo, veja uma sèrie de livros que anteciparam muitas mudanças que pareciam impossìveis!
Um dos pioneiros foi H. G. Wells que antecipou o que o mundo seria no ano de 2000:  falou de trens e carros como responsáveis pela dispersão da população das fazendas para as cidades e muito sobre o que chamava de restrições morais em declínio, exemplificando com homens e mulheres em busca de maior liberdade sexual. Ambas aconteceram! Outro grande antecipador de futuro foi por exemplo Arthur C. Clarke, autor de ficção científica que previu o advento do computador pessoal, dentre outras bem interessantes, que você pode ler aqui.

Aqui a diferença entre a ficção científica ou sci fi do passado e a das séries e livros que estão obtendo um enorme sucesso no presente como Humans, High Rise, Ex Machina, Her and Black Mirror è o aspecto temporal: antes, as "profecias literárias" levavam anos, décadas para se transformarem em realidade. Hoje, podem ser meses, e a culpa è do crescimento exponencial da tecnologia.

Vejamos o exemplo do conceito central de Her, onde um homem se apaixona por um sistema operacional de computador. Isso descreve muito bem o que já está aqui, na medida em que podemos considerar nosso smartphone como um amigo. Bem, nós ainda usamos dispositivos móveis como uma espécie de segundo cérebro externo, mas ele ainda é fora de nossos corpos. Porém sobre isso jà existem empresas testando realidade aumentada, realidade virtual e hologramas para que esta experiência de amigo virtual seja percebida pelo cérebro como real.
Jà em Black Mirror, o assustador não è que ele prevê o futuro, mas oferece uma visão bem tentadora  - as vezes assustadora - do presente, com um desdobramento futuro que pode ser amanhã ou daqui um mês. As sèries atuais nào estào sozinhas nesta previsào: existem centenas de outros filmes que mostraram uma visào de futuro que depois aconteceu, como vocè pode ver aqui.

Hoje a ficção científica ou sci fi oferece o que experenciamos agora, que estamos vivendo no presente e mostra caminhos sobre como poderia ser. Mas mais importante, mostra como olharmos para o presente para imaginar o futuro, e, em seguida, examinar o futuro e pensar sobre se ele è realmente interessante ou não.