o quanto è importante afrontar a questào do Nosso fim, no contexto da arte contemporànea ?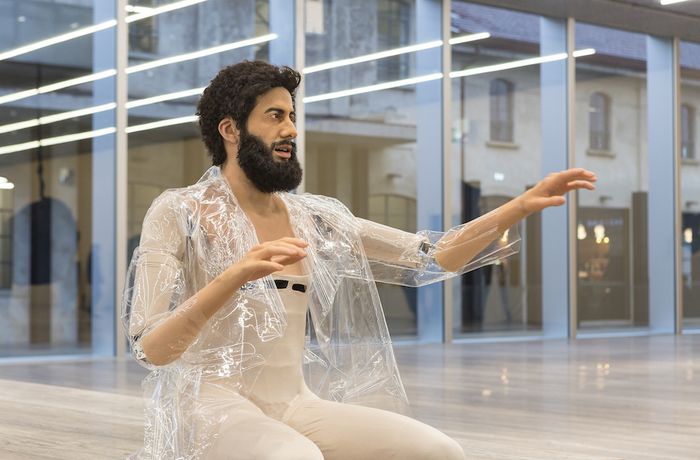 A Fondazione Prada hospedou a mostra "To the Son of Man Who Ate the Scroll", curada pela artista Goshka Macuga, na qual o conceito de base a intençào era responder à pergunta: "o quanto è importante afrontar a questào do fim, no contexto da arte contemporànea? "

A capacidade de pensar de forma abstrata e objetiva o Universo e conceber a nós mesmos como seres humanos nos permite determinar a idade em que vivemos como uma das muitas eras do universo e tambèm imaginar uma existência depois de nós, mas em um universo sem o homem. Dentro deste cenário apocalíptico - ou de chaos - alguns estudiosos têm refletido sobre o papel da tecnologia e robôs como fatores que potencialmente contribuem para a extinção da humanidade e sua posterior dominação do mundo.
Com este incipit nos preparamos para a mostra, onde no piso térreo do Podium um andróide - concebido por Goshka Macuga e fabricados no Japão pelo laboratório A Lab - declama incansavelmente um monólogo composto por numerosos fragmentos de discursos preparados por grandes pensadores, criando um arquivo de fala humana. Neste ambiente dominado pela dimensão temporal do robô, a perspectiva humana torna-se irrelevante. No mesmo espaço também vemos um novo trabalho tèxtil intitulado Negotiation sites after Saburo Murakami, criado por Goshka Macuga em colaboração com Kvadrat.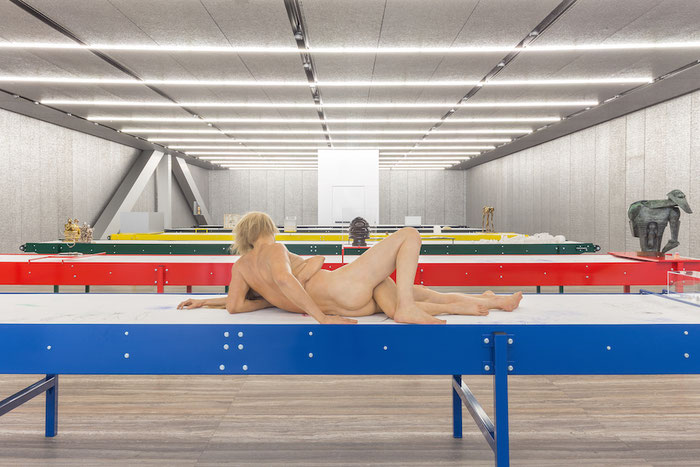 No andar de cima, vemos o resultado de uma colaboração entre Goshka Macuga e Patrick Tresset, que apresenta 5 mesas com rolos de papel de 9,5 metros de comprimento cobertas com esboços, desenhos, textos, fórmulas matemáticas e diagramas realizados por canetas esferográficas do sistema "Paul-n" desenvolvido pela Tresset, ilustrando a história do progresso humano. Os robôs na ùltima mesa nos chamam em tempo real e convivem com obras de arte antiga e contemporânea de artistas como Hanne Darboven, Lucio Fontana, Sherrie Levine, Piero Manzoni e Dieter Roth, objetos raros, livros e documentos que, colocados sobre os rolos, criam uma justaposição que narra a evolução da humanidade e seu possível colapso.

Na Cisterna, 73 cabeças de bronze representando 61 figuras históricas e contemporâneas, tais como Albert Einstein, Sigmund Freud, Martin Luther King, Karl Marx, Mary Shelley e Aaron Swartz, conectados por barras de metal dando a idèia de uma estrutura molecular para evocar a proposta de Einstein, que sugeriu uma liderança intelectual capaz de substituir o atual modelo de autoridade política. Este trabalho pode ser lido como o encontro imaginário entre pensadores de diferentes períodos históricos e origens geográficas e culturais, cujas idéias refletem a complexidade da natureza humana e sua história.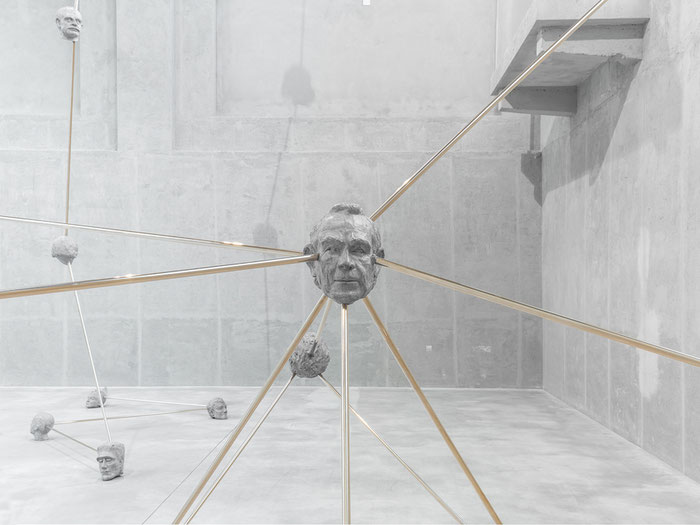 Mas è o android exposto no piso térreo, que atrai a atenção de todos pois tem um rosto cujo realismo è desconcertante (vocè leva alguns segundos para perceber que não é um ser humano pois a rigidez do gesto trai a natureza artificial). Ainda mais impressionante è realizar entào que, ops, seres humanos e robôs são praticamente idênticos...

Mas a maravilhosa cosmologia criado por Goshka Macuga reside na sua  orquestração de elementos heterogêneos - de andròides para o vaso do século VIII. BC, aos desenhos feitos por autômatos em longos rolos de papel, até obras de artistas vivos - que, em sua intersecção dào vida a uma enciclopédia visual sobre as questões fundamentais da humanidade, isto é, citando o texto que acompanhou a abertura da exposição:"o tempo, a origem, o fim, o colapso e renascimento ".

A história da arte remisturada, reorganizada e lançada em direção ao futuro inevitavelmente nos recorda a finitude dos corpos, a morte, e sobre a possibilidade de uma nova vida. O andróide recita um monólogo composto por fragmentos de discursos de grandes pensadores que formam "um arquivo do pensamento humano", estabelecendo assim uma ligação entre a retórica arte e memória artificial, compartilhar o propósito de estabelecer e perpetuar o conhecimento. Mas a operação executada por Macuga também fala do renascimento e das propriedades arte de superar o homem e expandir ao longo do tempo e espaço. Aqui simbolizadas por grandes obras que evocam a ideia do cosmos, incluindo o "Cubo", de Alberto Giacometti, "Spatial Concept" por Lucio Fontana e "The Golden Sphere", de James Lee Byars.
Tambèm destaco a presença das caixas de Joseph Cornell, da bíblia do século XX, Assim falou Zaratustra de Nietzsche, e um dos melhores livros de scifi jà escritos, Fahrenheit 451, de Ray Bradbury. Sci-fi? Està acontecendo...jà aconteceu...basta observarmos....
Ao final da mostra, com o fòlego suspenso, a primeira coisa que veio à minha mente foi: eram anos que uma mostra de arte contemporànea nào me mostrava de forma tào intensa, poètica e verdadeira, o estado atual do Zeitgeist. Assim, por favor, leitores do presente e criadores do futuro, façam uma visita: a chave de compreensào do mood atual do mundo està toda ali...