tema de base presente nas mostras de Arte aqui na Europa e que nomeia o sentimento micro/macro do nosso zeitgeist...
Caos, palavra que vem do latino chaos e que nas antigas cosmologias gregas representava o complexo dos elementos materiais sem ordem que preexistiam ao κόσμος, ou seja, ao universo ordenado, pode ser compreendido como um sentimento de grande desordem e confusào de coisas... Caso mais especìfico? A Polìtica (mundial), por exemplo. Mas, voltemos à Arte e ao Design que sào os setores que estào interpretando-o de uma forma bem interessante...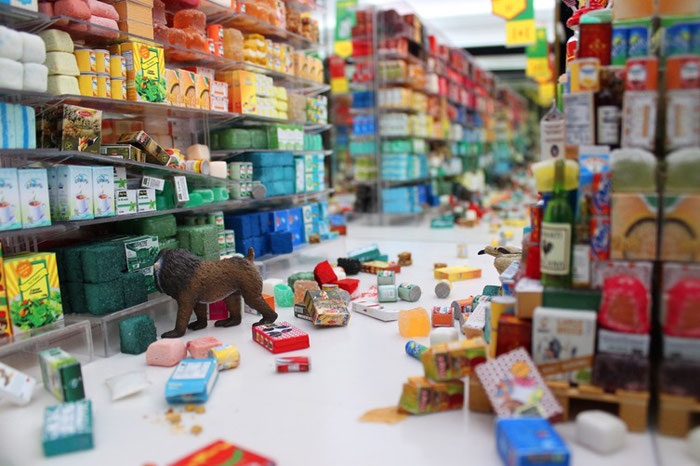 O caos atual no micro se manifesta nos problemas de identidade de gènero, no prolongar dos ciclos da vida, nas dificuldades de investimento eròtico, no apagar da libido pela tecnologia e stress diàrio, na negaçào da morte e dos limites da vida, na suspensào dos conflitos em um modo de ser politicamente correto e no medo da aventura da vida. Mas vai alèm, e no macro vemos as rupturas das grandes ideologias, a evidente fragmentaçào dos traços psìquicos tradicionais, as entradas em arcaismos regressivos como os novos nacionalismos, que entào nos leva - empurrando e sem gentilezas - a buscar novos modos de ser e estar neste mundo.
Estamos em busca de uma nova consciència, novas responsabilidades, novos percursos de singularidade, mas que, colocadas neste momento de interregno mundano è òbvio que serào atacadas - a chave para a sua compreensào està nascendo junto! Assim, estamos vivendo imersos em um caos aparente mas que porèm jà està deixando intuir novos cenàrios, novas possibilidades e muitas soluçòes criativas que, magari, poderào definir o renascimento do novo homem...
A primeira mostra de 2016 com este tema foi a CAOS, do Laboratório de Design do primeiro ano de Master of Science, realizado pelos professores Andrea Branzi, Michele De Lucchi e Francesca Whale Arista no Politecnico di Milano. Depois de "A estética da Miséria", apresentado no ano passado mais no Palazzo Litta, este tempo de reflexão centra-se no tema do caos como uma chave para a compreensão do mundo contemporâneo.
O século XXI é uma era caracterizada pela complexidade dos mercados, o aumento da população mundial, contra as guerras religiosas. É uma época em que, segundo o maestro Andrea Branzi, "o projeto perdeu o próprio projeto." e entào os alunos foram convidados a refletir sobre os espaços onde o homem moderno de hoje tende a interpretar o seu habitat como um lugar apenas parcialmente organizado, de acordo com as funções domésticas tradicionais.
As maquetes em escala 01:10 (acima e abaixo) são evocativas e narrativas, muito diferentes, e cada uma dà uma interpretação particular do tema. O que surge é uma visão da libertação. O caos começa a ser visto não como uma catástrofe causada pela falta de ordem, mas como uma presença positiva: se uma vez pensàvamos que precisàvamos de regras, hoje nào è mais assim.
As demais mostras com este conceito de base foram Terzo Paradiso de Michelangelo Pistoletto em Parma 360, no Festival della creatività e a To the Son of Man Who Ate the Scroll, de Goshka Macuga para a Fondazione Prada di Milano e que veremos logo mais aqui no blog.