Quando uma mostra de design parte de um conceito filosòfico prè-socràtico, o resultado sò pode ser magnìfico. A filosofia voltou ao design, oba!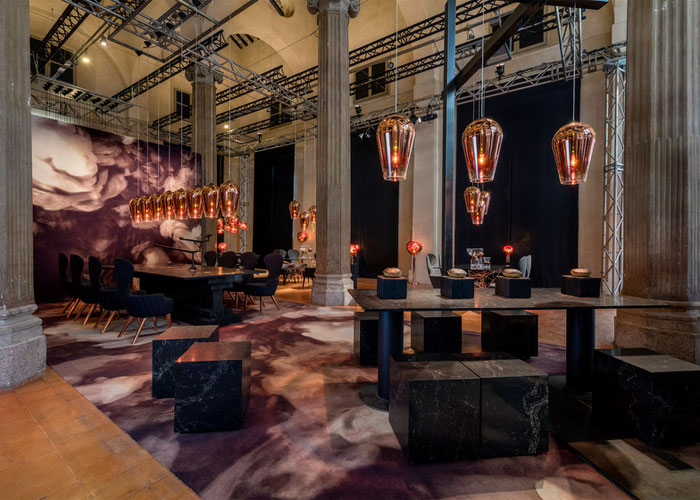 A Rotonda della Besana, palco da incrìvel cenografia de The Restaurant, projeto de Tom Dixon & Caesarstone, que visitamos no #InputsFromFuorisalone è um complexo tardobarocco de Milào constituído pela Igreja de San Michele ai Nuovi Sepolcri e que hoje è desconsagrada. Curiosamente a "Rotonda" nasceu com funções de cimitèrio, onde foram sepultadas mais de 150mil pessoas, e pertencia ao então Ospedale Maggiore di Milano, desde o seu nascimento em 1456. Em 1792 o governo austríaco acabou com a função a que ela era destinada e caiu em grande degrado, sendo adquirida pela Comune di Milano em 1958 e disposta ao público para eventos e mostras.


Històrias a parte (lembremos que sempre è bom sabermos a origem das coisas e por isso me preocupo em trazer estas infos a vocès por aqui), para mim foi uma das melhores mostras deste Fuorisalone 2016.
Com seu gosto very british e entào grande pragmatismo, ele arrasou neste Fuorisalone com sua coreografia, luzes e làmpadas, dentro de um majestoso ambiente. Mas isso è normal com Tom Dixon, pois sempre, desde que comecei a visitar o Fuorisalone, ele consegue nos surpreender. Desde as escolhas das locations - ano passado como o The Cinema, este ano com o The Restaurant.
Ele literalmente transformou a Rotonda della Besana (Museo dei Bambini) em um restaurante, com pratos de 10 a  25 euros. Mas obviamente a mostra nào se resignava a apenas isso. Tudo começa com o conceito: ele escolheu 4 elementos, Earth, Fire, Water, Air. Estes elementos naturais e originais da elaboraçào filosòfica prè-socràtica (se vocè que me lè è designer pesquise o que isso quer dizer pois vai ser muito inspiracional a seus projetos!) colocaram de pè monumentais cozinhas, cenogràficas mas que em uma escala humana tambèm funcionam.
Nelas, que eram verdadeiras esculturas de màrmore, havia espaço para tudo: desde o cozinhar atè o relaxar, vendo a preparaçào gastronòmica idealizada por Francesca Sarti de Arabeschi di Latte, e, super legal, comer! Nào o batido "aperitivo para quem visita seu stand", para deixar bem claro, mas vocè podia ordenar seu prato (dentro das temàticas) e degustà-lo alì, tranquilo.

Metais, policarbonato, vidro e bronze em harmonia, dispostos com a elegància que um maestro do design como Dixon tem. Sem esquecer de suas raìzes industriais, incluindo muitas tècnicas artesanais, e, sempre, a sua pesquisa infinita de novos materiais. Ele, que pensa no design como Alchimia, gosta de transformar as matèrias atravès de um processo e, isso, nào è uma espècie de arte culinària?

Un cinema abandonado o ano passado, um hotel decrèpito em Londres para o Design Festival 2015, o Museo della Scienza e della Tecnica em 2013: Dixon ama descobrir e nos mostrar a sua paixào e inovaçào atravès da renovaçào de espaços, da sua completa transformaçào (a Rotonda de igreja e cimitèrio vira um restaurante!) e escolhe cenàrios que nào sào fàceis.
Dominar uma grandiosa igreja tardobarocca nào è fàcil, muitos designers preferiram palàcios de època, como vimos aqui no blog ou no meu Instagram onde na verdade o olhar ia mais para os afrescos do que para os objetos. Na Rotonda que ele escolheu, porèm, o processo è inverso: mesmo que seja um local històrico, seu olhar explorava em continuaçào os detalhes que ele havia criado.
Chapeau, Dixon. Foi a melhor mostra que vi, onde tudo conversava: ambiente, cenografia, conceito e produtos. Quanto caminho ainda algumas players tem a descobrir com ele no quesito "mostrar seu Design"... E fico agora apenas imaginando qual serà a sua pròxima invençào no Fuorisalone de 2017. Façam suas apostas!