destruiçào criativa em um cenário pòs-apocalìtico com glamour hardcore e romantismo intelectual.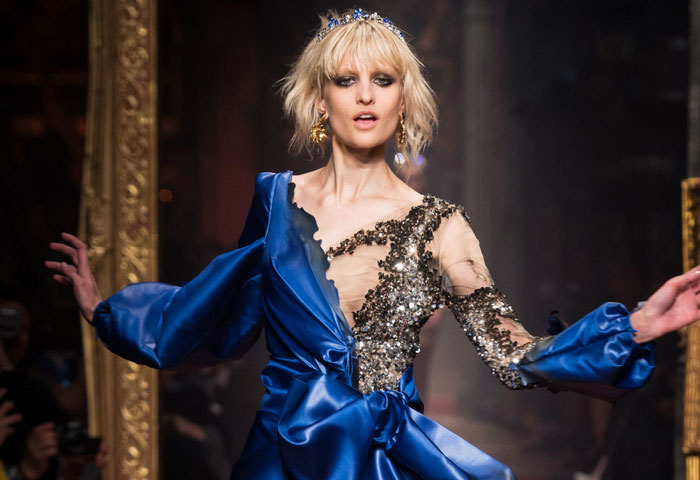 A moda está "andando in fumo" segundo a coleção de Jeremy Scott para Moschino, apresentada esta semana com um show espetacular. Dedicou o AW 2016/17 ao Bonfire of the Vanities  ou como dizemos aqui em Milano falò delle vanità (fogueira das vaidades): na passarela ele deu fogo nos vestidos. Voilà, a moda è morta, viva a moda!
Tudo reunido em uma espécie de cenário post-apocalìtico de glamour hardcore numa viagem entre a couture e a girl gang. Com a sua limited edition "It's lit" vimos camisetas com o slogan "Fashion Kills" e "Warning: quitting fashion now greatly reduces serious risks to your health" inspirados nas advertências dos pacotes de cigarro. Aliás, chapéus com bitolas de cigarro estavam presentes tambèm. E isso, eles dizem, è luxo.
Mas detenho-me na escolha de sua inspiração, porque è exatamente aì que mora o entendimento do que está acontecendo: o famoso falò delle vanità aconteceu realmente em 1497 quando apôs a derrubada dos Medici em Firenze os seguidores do frade domenicano Girolamo Savonarola sequestraram e queimaram publicamente milhares de objetos na cidade, durante a festa de  martedì grasso pois identificavam estes como uma representação de tentação e pecado. Na contemporaneidade, acho que nào precisamos lembrar, mas è importante, isso aconteceu no Nazismo e è o que os seguidores do Isis fazem o tempo todo.

Muito atual, e representativo do que está acontecendo em nosso Zeitgeist: o sistema nào funciona mais, e neste Interregno, antes que o novo nasça, a destruição - as vezes entendida como barbarismo - è necessária. Neste clima de insegurança, ele inclusive declarou que "We're reaching a possibly insane point of more and more stuff and obsession. I don't know why" — some might say he, and his spearheading of the see now/sell now movement, putting capsule Moschino collections on sale postshow, had something to do with it — "but I feel it." Realista e ao mesmo tempo Profètico, nào?
Nào um caso, mas Miuccia Prada sente o mesmo, quando afirmou ao New York Times que "It's such a difficult period; we don't know who we are or who we want to be." Decididamente, um momento de questionamentos e incertezas, onde prefiro pensar que è um momento de escuridão em vias de gerar um futuro mais criativo, como alias disse Immanuel Kant "E' na obscuridade e nào na plena luz, que a imaginação trabalha mais ativamente."
O que gostei dela este ano para ser bem sincera foram as imagens de Instagram (acima), sugestivas e fascinantes pois davam liberdade a nossa imaginaçào para imaginar o mood que seria revelado logo apòs. Claro que sempre com muita referència à Arte em particular à tradicional turca e depois imagens entre Magritte, De Chirico e Picasso, em chave de arte contemporànea extrema com fortes cores, planos e imagens.
Na mesma onda de conceito básico, meu chapeau este ano vai para o desfile de Gucci, intitulado "Rhizomatic Scores", um belo referimento às teorias dos filósofos contemporâneos Gilles Deleuze e Felix Guattari. E a quem nào conhece, è o seguinte: o rizoma è a parte final do fusto de uma arvore e cresce embaixo da terra, servindo para acumular substâncias de reservas e tem tambèm uma função reprodutiva. Os filósofos o tornaram um símbolo de um crescimento desestruturado e horizontal, sem hierarquias, onde a vida pode aparecer a qualquer momento, de qualquer direção. Todas idéias que se refletem nas criações de Michele!
"Preferisco pensare a un momento, al Rinascimento come periodo storico, come espressione di grande modernità. Il suo legame al classico, il suo rifacimento del passato come ad esempio le citazioni alla Domus aerea sono come il vintage oggi. Una sfasatura che mi piace. Il passato non è solamente una referenza solo perché non si ha qualcosa da dire." Alessandro Michele.
Sobre sua coleção, ele tambèm intensifica sua relação criativa com uma das fases mais criativas do Ocidente, o Renascimento, no qual tambèm Scott declinou a sua, como vimos. Disse que este ano sua característica era a de um "Rinascimento rock'n'roll, ma anche un Rinascimento anni Ottanta, un Rinascimento dello streettstyle, un Rinascimento borghese e un Rinascimento della cineserie" (ou seja a Arte Européia do século XVII com forte influência chinesa). Ficou claro o seu desejo de inventar um novo tipo de beleza atravès combinações improváveis, trazendo familiaridade e beleza sim, mas eliminando um pouco o rigor que sempre caracterizou a marca.
A grosso modo penso que está dando uma da Karl Lagerfeld em Chanel, ou seja, desmistifando a maison, com brechas de contemporaneidade, futuro imaginado e pesquisa no vasto heritage que ela possui. Uma critica apenas ao excesso de decorações mas que provavelmente irà diminuir nas próximas, pois geralmente esta è utilizada para marcar um ponto de inicio e nào um plano de seqüência…

O resultado de Milão è claro para mim. De forma inspiracional è emocionante verificar este retorno pontual ao período do Renascimento, que è a onda na qual estamos todos surfando arquetipicamente hoje e sobre a qual eu jà havia antecipado aqui, e de outro, na modalidade business, percebo que instalaram-se dois binários - sem ponto de retorno  - para o sistema moda. Um deles, o de New York e London onde a moda serà vendida imediatamente e o outro de Milan e Paris que vai continuar observando calendários e agendas de estação, com exceção de Prada, claro, que vai vender os acessórios dos desfiles online, em lojas selecionadas, imediatamente apôs seu fim. Porquè, mesmo que ela jogue no time de casa, soldi è sempre soldi...

Bem, quem viver verà. Atè Setembro, allora ;)