Um mix de Old (and new) Masters, primeiro museu de design do mundo, Apfelstrudel E Oktoberfest!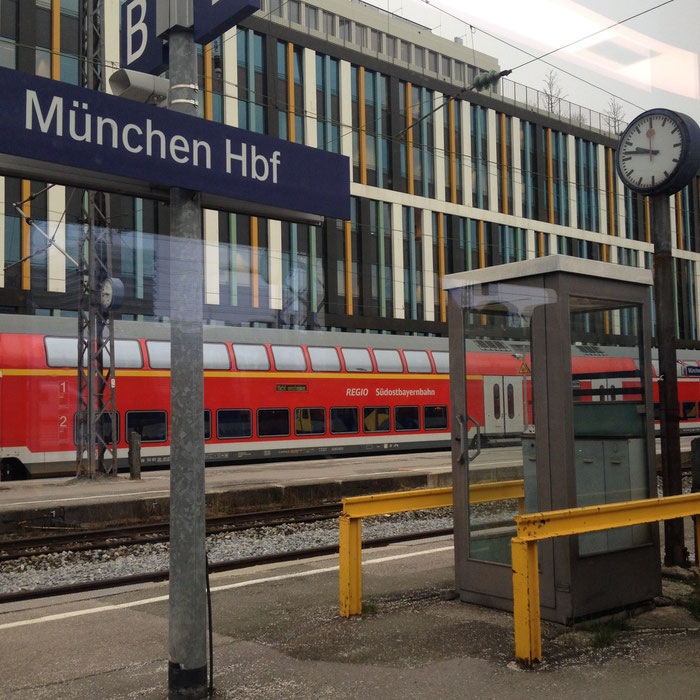 Passei uma semana na Alemanha, em München (Munique), realizando uma imersão total no seu Zeitgeist (mood cultural de um território), atravès do Coolhunting (pesquisa e análise de tendências) nesta que poucos sabem ser uma vibrante e criativa cidade. Venho todos os anos nesta época e a adoro! Bem, enquanto finalizo os posts sobre Gastronomia que foram meu foco principal por aqui desta vez, deixo algumas dicas sobre o que visitar se você è um apaixonado de Design, História, Cultura e Arte. Que seja inspiracional ;)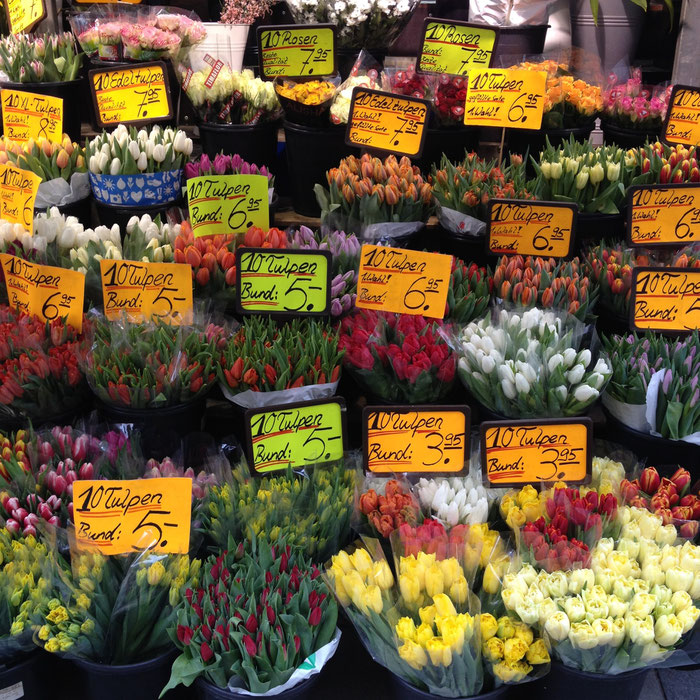 München tem mais de 40 museus, dezenas de teatros e salas de cinema, e è considerada a capital cultural alemã. Honestamente, com a experiència de morar entre Itália e França, e sendo uma assídua frequentadora de museus e mostras de arte nestes dois países, afirmo sem nenhum pudor que temos muito que aprender com o sistema artístico desta cidade: principalmente em qualidade expositiva, logìstica e comunicaçào dos locais. Tudo funciona às maravilhas, e os preços, principalmente dos catálogos das mostras (que são meus gadgets preferidos!) são de acordo. Art for all!
Minhas galerias preferidas, ou pinacotecas, estão situadas na área chamada Kunstareal (distrito de arte) no bairro central de Maxvorstadt: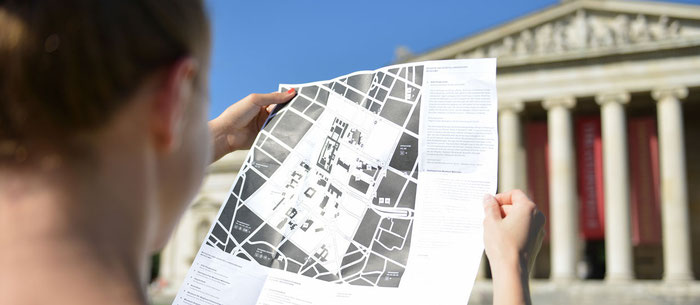 Aqui estão localizadas a Alte Pinakothek, Neue Pinakothek e Pinakothek der Moderne, a  Glyptothek, o Staatliche Antikensammlung (ambos especializados em arte greco-romana), o Lenbachhaus, o Museum Brandhorst (coleção privada de arte moderna). A minha primeira parada sempre è na Alte Pinakothek, pois è uma das mais antigas e ricas galerias do mundo, e seu nome (Pinacoteca Antiga) è alusivo ao seu acervo, apenas com o que chamamos no jargão artistico de "Old Master", ou seja, todos os artistas europeus atuantes antes de 1800. Jà a Neue Pinakothek cobre a arte do sèc.XIX e a mais recente, a Pinakothek der Moderne oferece Arte Moderna. Esta semana retornei, e recomendo uma visita a:
Alte Pinakothek
Está em obras mas ainda conseguimos ver alguns dos "capolavori" que fazem parte da nossa cultura artística do inconsciente, como chamo aquilo que de alguma forma "jà vimos": falo de Albrecht Altdorfer com a sua maravilhosa The Battle of Issus (1529), o incrível Pieter Bruegel com a irônica e original The Land of Cockaigne (1567) e, claro, o auto-retrato de Albrecht Dürer, de 1500.
The International Design Museum Munich
Poucos sabem mas este è o primeiro museu de Design na Europa! O Die Neue Sammlung – The International Design Museum Munich è situado na Pinakothek der Moderne, pinacoteca famosa por sua arquitetura marcante, projetada por Stefan Braunfels, e pela sua coleção internacional de design. Ele cobre desde a Tecnologia, até, claro, o Mobiliário.
Lenbachhaus
Este è um dos meus preferidos: um museu de total art lindo, apenas restaurado por Norman Foster. Em arquivo permanente está o grupo The Blue Rider, mostra New Objectivity e salas inteiras plenas de Joseph Beuys, Thomas Demand, Olafur Eliasson, Valie Export, Dan Flavin, Maurizio Nannucci, Roman Opałka, Sigmar Polke, Arnulf Rainer, Gerhard Richter, Michael Sailstorfer, Richard Serra entre outros… Este grupo que adoro, os Der Blaue Reiter (Cavaleiros Azuis) eram formados por ninguém mais ninguém menos que Paul Klee e Wassily Kandinsky, junto de Von Jawlensky, Münter, Franz Marc, August Macke e Alfred Kubin.
Ele originou-se da paixão de Kandinsky pela cor azul e do amor de Marc pelos cavalos. Para o primeiro, o azul è a cor da espiritualidade – mais è escuro mais determina o humano desejo pelo eterno (#booklovers, leiam On the Spiritual in Art, 1911). Kandinsky tambèm criou uma obra com este nome em 1903 que está exposta aqui. Abaixo duas obras de Franz Marc: o famoso Blue Horse, (1911) e Der Tiger (1912).
Haus der Kunst
Opa! Esta galeria de arte, hoje Museu bem minimalista, foi desenhada e construída por decisão do famigerado Hitler. Neste eram abrigadas obras de arte consideradas "normais". Artistas como Chagall, Picasso, Ensor, Kokoshka viveram seu período escuro ali, pois Adolf chamava a arte deles de "L'Art Dégénérée" (Arte Degenerada). O Terzo Reich se recusava a expor as obras dos artistas citados (e tantos outros) que assim pagaram ao Fuhrer com seu exìlio em paìses como os EUA, por exemplo. As obras que este regime classificou como "entartete Kunst" foram vendidas em uma asta em Lucerna (Svizzera) em 1939 e dalì muitas tomaram um destino desconhecido, e outras encontraram refúgio em locais públicos ou coleções privadas ao redor do mundo.
Finalizando, enquanto escrevo os outros posts, lembro de uma coisa importante quando visitamos um local aonde nào vivemos diariamente: o de conhecer a sua História e as suas estórias: entrar "dentro" da cidade, sem prè-conceitos. Então, esta cidade bela – München, Minga, Muenchen, Munich ou Monaco da Baviera, (você escolhe) – se de um lado è a idealizadora/realizadora da mais famosa Oktoberfest mundial, de outro lado è lembrada como a Hauptstadtder Bewegung (Capital do Movimento Nazista). Felizmente, tambèm è lembrada como a Die WeißeRose (Rosa Branca da Resistência). Ou seja, um território e uma cultura com muitas facetas!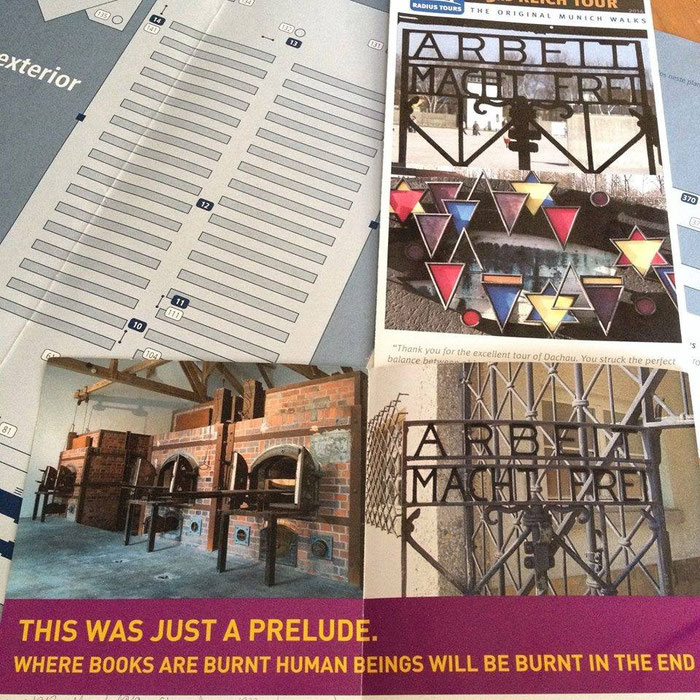 Campo de Concentração de Dachau
Por isso, fiz questão de ainda em 2015 conhecer o Campo de Concentração de Dachau para "provar" na emoção, nào apenas no conhecimento, o que foi esta época terrível. Nào apenas de Arte, de Design e de grandes maestros vive a cultura alemà. Seu passado "negro" tambèm deve ser conhecido para ser compreendido. O que senti? Impotència, tristeza e uma grande vontade de que todos pudessem visitar este local ao menos uma vez na vida, para visualizar atè onde a loucura dos partidos nacionalistas e dos que professam que o "certo è ser assim ou ser aquilo" podem chegar.
No depliant na entrada do campo (acima fiz uma montagem com o mapa do local) uma mensagem infelizmente atual:  "Where books are burnt human beings will be burnt in the End". Onde livros são queimados, seres humanos serão queimados no final…Premonitório nestes dias de bibliotecas incendiadas na Rússia e de fogueiras de livros no Isis, não é mesmo? Nào vou postar aqui as imagens em respeito aos familiares dos sobreviventes, mas realizei uma pequena amostra da visita deste local e você pode ver abaixo: