HOJE virou tabu um gesto natural e saudàvel como amamentar. O seio, centro das polèmicas proibitivas atuais, està deixando a esfera do permitido para a do proibido. Porquè esta neurose coletiva?
Um dos elementos mais lindos do corpo de uma mulher, o seio, simbolicamente representa a fonte que dà sustento e contèm em si o germe da vida. Tem um estreita ligaçào biològica, etimològica, psìquica e simbòlica com a origem da vida como conhecemos. Oras, a primeira coisa com a qual o ser humano entra em contato apòs o nascimento è o seio materno, que em latim - vejam que lindo - è indicativamente chamado de mamma. Sim, como chamamos a nossa màe aqui na Itàlia! Sem falar na raiz indo-europèia bhreus (inchar, germinar) de onde deriva o termo breast (seio em inglès) e brust (seio em alemào), que entào nos remetem a este belos significados.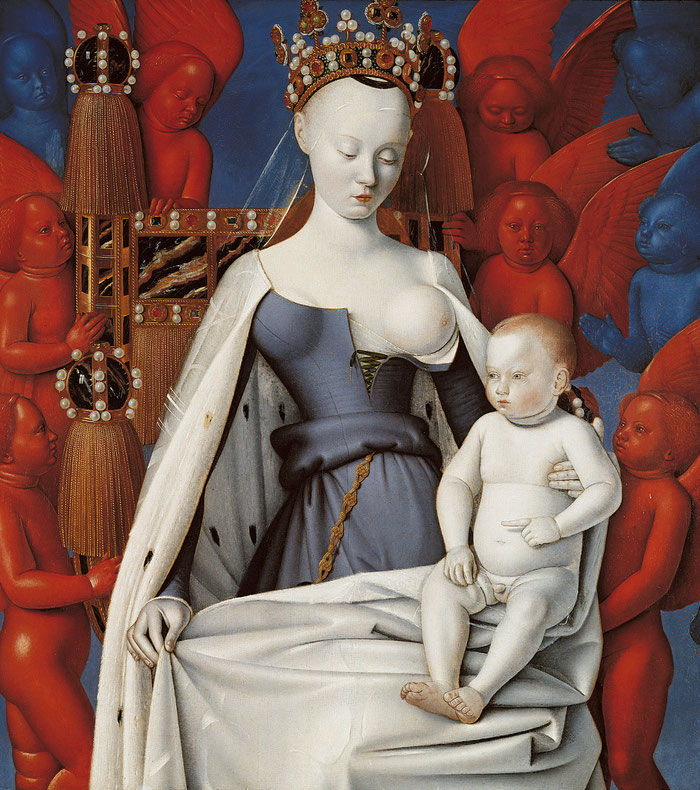 A Madonna realizada para a igreja de Melun por Jean Fouquet, em 1450 è uma das minhas obras de arte preferidas. Explico porquè: a mamma aqui è elegantìssima, com parte da cabeça raspada (era a moda da aristocracia da època) absorta no seu mais secreto pensamento, mas se assemelha mais a uma rainha mà, ou a uma "belle dame sans merci", e poderia ser, dizem, Agnès Sorel, a favorita do rei francès Carlo VII. O que me estranha è que parece nào ter nenhuma relaçào de afeto com o filho, nenhuma empatia... e è este destacar-se que cria a ambiguidade, e uma profunda cissào entre imagem sagrada e fàbula cruel que me incita, desde que a vi pela primeira vez.
Iside e Horus do The Metropolitan Museum of Art e do British Museum, ambas egìpcias, cerca de 332 e 600 AC, respectivamente.
A imagem de uma màe que alimenta o pròprio filho com o leite de seu seio è presente em todas as culturas: è o sìmbolo da maternidade, da fecundidade e da continuidade das geraçòes. Na mitologia cristà è a manifestaçào da humanidade de deus que entre na història, prendendo forma no ventre de Maria de Nazareth. Do oriente bizantino, a iconografia se propaga no Ocidente, onde encontra pleno desenvolvimento entre os sèculos XIV e XV em Europa, sobretudo na Itàlia.
E' neste perìodo inclusive que a devoçào a Maria se orienta à recuperaçào da sua feminilidade e da vida no contexto familiar: junto de imagens solenes destinadas à liturgia do clero, nascem uma sèrie de representaçòes destinadas ao culto privado e popular, onde a dita Virgem è sempre realizada com o seu "ser mulher".
Sobre o leite, fica bem claro nas mitologias que narram as origens do universo, seja dos contos africanos às fàbulas indianas, que ele è sempre o fluido que dà a vida, anima (dà alma) as coisas. Se acreditava por exemplo que o leite das deusas gregas (galaktos) tivesse semeado o cèu de estrelas ou ainda que a Via Lattea tivesse este nome justamente por ter sido realizada pelo leite que gotejava do seio de Era, rainha de todos os deuses.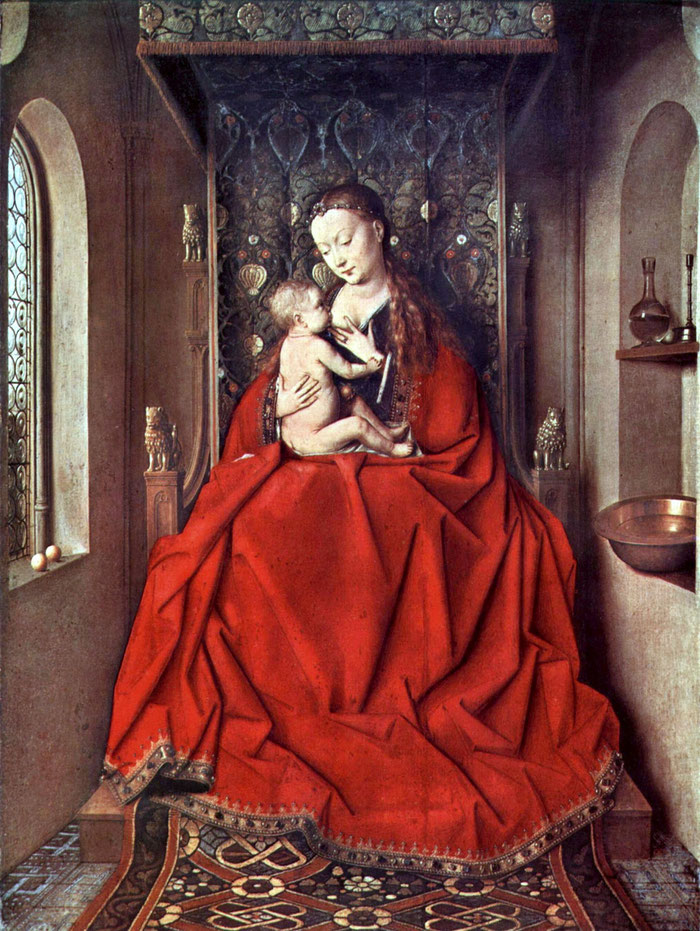 Considero uma das mais belas obras de arte de Jan van Eyck, a sua Maria lactans, de 1430.
Uma breve viagem na Història da Arte nos mostra que este tema è relacionado a um simbolismo heterogèneo, muitas vezes estranho, de contornos inquietantes e muito, mas muito erotismo.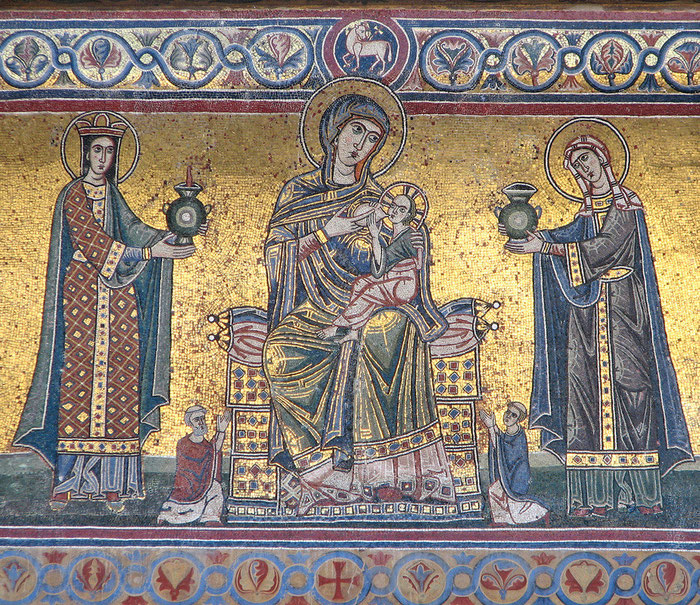 Representaçào de Madonna del Latte na igreja Santa Maria in Trastevere, em Roma. Mosaicos de cerca de 1200 DC.

Podemos dizer que a representaçào do aleitamento foi sendo carregada de um crescente nùmero de sìmbolos e mistèrios no correr dos anos: das origens egìpcias à linguagem alusiva da iconologia atè o aleitamento das famosas "Madonna del latte" italianas. Ao mesmo tempo ilustra tambèm os nossos instintos animalescos, as relaçòes carnais e a ìntima relaçào entre o bebè e o corpo feminino.
Na nossa sociedade que mostra seios na publicidade, ver o seio de uma màe que amamenta faz mal à sensibilidade das pessoas e, pior ainda, este tema vem vivido como um grande tabù. Para termos uma idèia, na liberal Inglaterra da famìlia real de Kate, amamentar em pùblico nào era permitido atè a lei Equality Act 2010!!!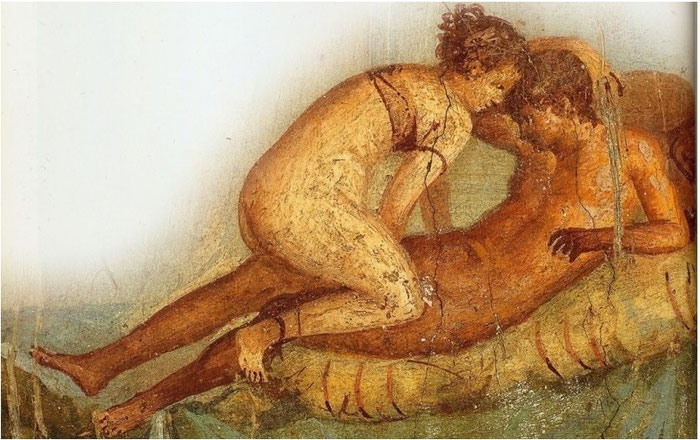 Trago como curiosidade : este afresco de Pompèia representa uma relaçào sexual onde os seios estào cobertos. As mulheres romanas, representadas na arte de sua època, tinham os seios quase sempre cobertos de uma espècie de sutià (faixas). Que nào indicam nenhum tipo de preconceito contra esta parte do corpo e sim, uma necessidade iconogràfica para sublinhar a diferença entre mulheres e deusas: na arte da època ambas tinham as mesmas formas, mas apenas as divindades podiam exibir os seios nus.
Mas, mesmo que a sociedade tenha dado alguns passos em avante, seios nus que amamentam ainda nào sào aceitos pela sociedade e os casos de intolerància aumentam todos os dias. A polèmica ficou tào forte que no inìcio deste ano atè o Papa Francesco comentou que as mulheres, quando estivessem na igreja, poderiam amamentar sem problema algum. A frase foi: "Ringraziamo il Signore per il dono del latte e preghiamo per quelle mamme, sono tante purtroppo, che non sono in condizione di dare da mangiare ai loro figli. Preghiamo e cerchiamo di aiutarle. Voi date ai vostri figli il latte, anche adesso (in chiesa, nda), se hanno fame e piangono, potete dare loro il latte".
Tambèm acompanhei ano passado o trend topic brelfies onde màes (famosas como Bundchen tambèm aderiram), postavam selfies enquanto amamentavam para protestar contra a censura a este gesto tào natural. Reaçào interessante contra a ignorància geral, cheia de preconceito e intolerància (e talvez de poucas idas à museus e mostras de arte...) que devemos começar a superar.
Urgente entào o desenvolvimento de uma sensibilizaçào à este processo, para que nào tornemos a viver no medievo, ou època das trevas como afirmaram alguns estudiosos. Que aliàs, visto algumas obras de arte da època, nào tinham nenhum problema com isso...